PATRIOT Act Extended Four More Years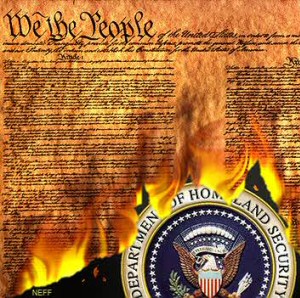 On May 27, the House passed a bill extending the PATRIOT Act for another four years. The Senate initially approved the bill with a 73-27 vote, despite vigilant efforts from Senator Rand Paul (including a seven-hour filibuster) to add amendments that would have restricted the federal government's ability to authorize warrantless searches and single out American gun owners.
President Obama signed the bill just before midnight, breaking a campaign promise that security would be enforced "without undermining our Constitution and our freedom." The Detroit Free Press reports:
Congress passed a four-year extension Thursday of post-9/11 powers to search records and conduct roving wiretaps in pursuit of terrorists. Votes in the Senate and House came after lawmakers rejected attempts to temper the law enforcement powers to ensure that individual liberties are not abused.

Minutes before the midnight deadline, the White House said Obama had signed the bill.
Clearly, this is change we can believe in.
A piece of Rand Paul's heroics standing up to Senator Harry Reid:
Check off another campaign promise broken by Obama, props to Rand Paul for resisting the renewal of the PATRIOT Act, and mark down continued disregard for the Constitution.
3 Responses to "PATRIOT Act Extended Four More Years"