Anti-Drone Protests in Yemen
You won't see much media coverage of these anti-drone protests that took place in Yemen on November 2, 2011. I commend these individuals for peacefully coming together to resist tyranny, empire, and war.
You won't find these pictures from the media. These pictures cover an anti-drone protest that took place in Yemen on November 4, 2011. The October 14, 2011, U.S. assassination of Abdulrahman Al-awlaki, a 16 year old Yemeni-American citizen, was a particularly intense event that sparked these protests. (See "The Assassination of an American Teenager" by David Kretzmann for more information on the assassination of Abdulrahman Al-alwaki.)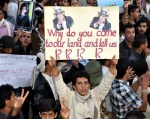 These photos are courtesy of the Abdulrahman Anwar Alawlaki – A crime we'll never forget Facebook page.
4 Responses to "Anti-Drone Protests in Yemen"