Joel Salatin: Freedom, Creativity, Environmentalism
"A farm includes the passion of the farmer's heart, the interest of the farm's customers, the biological activity in the soil, the pleasantness of the air about the farm – it's everything touching, emanating from, and supplying that piece of landscape. A farm is virtually a living organism." – Joel Salatin
The deepest experience and impression of nature only arises on an individual level. There are many different stages of awakening awareness in nature, the most basic being the food we eat on a daily basis. Consider the packaged, wrapped, dehydrated, heavily processed food people commonly purchase. From the very beginning, people eating a majority of food of this sort are likely to be detached from nature, not to mention unhealthy. Modern industrial farms have concentrated themselves into a centralized business model relying on packing animals into small cages, spraying fields and crops with chemical pesticides, all of which is propped up through bureaucratic regulations that destroy local farms. My belief is that the nature experience, on a most basic and individual level, begins with local farms. People will have a much greater respect and understanding of nature when they regularly eat and observe whole, natural foods that come from a local source.
"Part of our responsibility as stewards of the earth is to respect the design of creation… That's something you can devote your life for." – Joel Salatin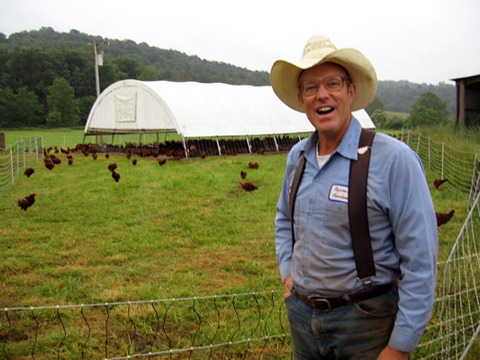 Operating the Polyface Farm on 550 acres of land in the Shenandoah Valley, Joel Salatin is defying just about everyone when it comes to producing organic food. Salatin describes himself as a "Christian-libertarian-environmentalist-capitalist farmer," and has focused his career on sustainable, environmentally-friendly, animal-friendly organic farming. One of the many unique aspects of Salatin's approach is that he only sells food to individuals, restaurants, and other outlets within a four-hour-drive radius of his farm, in an effort to encourage people to purchase their food from local farms in their area.
"We think there is strength in decentralization and spreading out rather than in being concentrated and centralized." – Joel Salatin
Salatin's "secret" is feeding livestock a rich and diverse mixture of grass, which is supported with no pesticides or chemicals whatsoever. The cattle freely roam among the fields, restrained only by a portable electrified fence that can be easily moved in less than an hour with one or two people. The farm's chickens are housed in portable coops that are transported with tractors. Salatin maintains a rotation of sorts by first letting cattle graze a portion of the field, and then letting the chickens roam that same area the following day. This simple process provides an easily maintained and renewable source of daily fresh grass for the cattle, gives the animals freedom to move around without much restraint, and it leads to incredibly tasty meat and eggs.
"I appreciate the fact that you obviously love life and the living." – Polyface Farm customer
"You, as a food buyer, have the distinct privilege of proactively participating in shaping the world your children will inherit." – Joel Salatin
This is a breath of fresh air compared to the industrial meat facilities today. In these facilities cattle are heavily restrained, the farmers hardly interact with the animals, and a huge portion of the cattle is fed corn (which is often grown with questionable techniques using pesticides and GMOs). Salatin has a tremendous respect of and connection with his animals; a connection that cannot come through the detached and horrific slaughtering processes in industrial meat facilities today. Clearly there is an importance in the environment animals are raised in and its impact on the taste and vibration of the food. Salatin sees and treats animals as free creatures, not soulless drones waiting to be eaten.
"I am a caretaker of creation. I don't own it, and what I'm supposed to do is leave it in better shape for the next generation than I found it." – Joel Salatin
The greatest gift Joel Salatin is giving to the world, however, is not his food. He is showing people that there is an alternative. What kind of impact would Salatin have if he simply held signs and protested to a corporate or government building? What effect would he have if he simply lobbied government to mandate his farming beliefs? Probably none at all, and no one would remember him for it. Salatin is taking action. He is not waiting around for someone else to implement his vision; he is taking initiative and proving that low-tech, sustainable, organic, animal and environmentally-friendly farming is not a lost cause. He is a living example that it is actually a tremendous success.
"I see myself today as Sitting Bull trying to bring a voice of Easternism, holism, community-based thinking to a very Western culture. If we fail to appreciate the soul that Easternism gives us, then what we have is a disconnected, Greco-Roman, Western, egocentric, compartmentalized, reductionist, fragmented, linear thought process that counts on cleverness. Now, how's that for a mouthful?" – Joel Salatin
Joel Salatin's relentless pursuit of self-sufficiency has given us a remarkable example of how to happily and prosperously live in tune with the environment. All the buildings on his farm are constructed with lumber from the forest resting on his land. His animals are fed natural grass. The land is irrigated by its own ponds. He prospers through a local customer base who jump at the opportunity to support such a venture. Salatin's achievements are laying the groundwork for the future of localism: respecting and appreciating the beauty and freedom of nature, working sustainably with animals on a very personal level, supporting both inner happiness and the local community, all through operating a profitable business. With individual initiative and creativity, nothing is impossible. Such is the story of Joel Salatin.
"How much evil throughout history could have been avoided had people exercised their moral acuity with convictional courage and said to the powers that be, 'No, I will not. This is wrong, and I don't care if you fire me, shoot me, pass me over for promotion, or call my mother, I will not participate in this unsavory activity.' Wouldn't world history be rewritten if just a few people had actually acted like individual free agents rather than mindless lemmings?" – Joel Salatin
5 Responses to "Joel Salatin: Freedom, Creativity, Environmentalism"