The Tragic History of Hemp, and Why It Must Be Decriminalized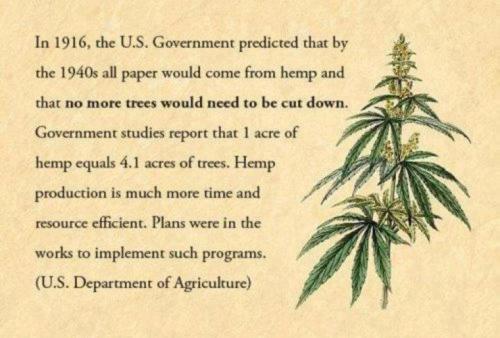 Perhaps one of the greatest economic and societal damages to come about through cannabis prohibition is the inability for American entrepreneurs to utilize a highly efficient cultivar of Cannabis sativa, commonly known as "industrial hemp." During Harry Anslinger's anti-cannabis campaign in the 1930s, hemp was lumped in and defined under the general cannabis species in federal law. Therefore, the production, transportation, and distribution of industrial hemp are federal felonies under current U.S. law.
The main ingredient in marijuana that provides the "high" psychoactive phenomena is delta-9-tetrahydrocannabinol (THC). The marijuana strain of Cannabis has a THC level between 3% and 15%, while industrial hemp holds a THC of less than 1%; since 1990 industrial hemp carries THC at levels lower than 0.3%. Some countries, such as Canada, have lightly decriminalized hemp, but still maintain very tight control over the production and distribution of hemp through vigorous and expensive licensing processes, limitations on total hemp production, and other governmental inspection procedures.
The USDA was not off-base when it stated "hemp production was profitable only at the higher end of estimated yields and prices." With hemp tightly regulated and controlled by government agencies, entrepreneurs are limited in how much money they can safely invest into a hemp venture over a long-term period. Thus, consumers today are limited to choosing from relatively low-capital hemp products such as hempseed energy bars, hemp milk, and hemp shirts.
A fascinating exploration into the possibilities of hemp can be seen in two issues of Popular Mechanics in 1938 and 1941. An interesting side note is that these issues, which contain extensive praise for the possibilities of hemp production, were written after cannabis was already criminalized in 1937 with The Marihuana Tax Act. It says a lot about the secrecy and underhanded manner in which cannabis was criminalized in the U.S., given the fact that Popular Mechanics was still singing the praises of hemp a year after the plant had already been criminalized under federal law.
The articles speak as if the connection between hemp and marijuana was still being debated, when it had in fact been codified in federal law in 1937. Popular Mechanics confidently proclaims "hemp will produce every grade of paper and government figures estimate that 10,000 acres devoted to hemp will produce as much paper as 40,000 acres of average pulp land."
Hemp is the standard fiber of the world. It has great tensile strength and durability. It is used to produce more than 5,000 textile products, ranging from rope to fine laces, and the woody "hurds" remaining after the fiber has been removed contain more than 77 percent cellulose, which can be used to produce more than 25,000 products, ranging from dynamite to Cellophane. ~ Popular Mechanics, 1938
The article concludes, "If federal regulations can be drawn to protect the public without preventing the legitimate culture of hemp, this vast new crop can add immeasurably to American agriculture and industry." Little did they know it was already too late; all cannabis forms were illegal, even those (such as hemp) without any psychoactive qualities.
In 1941, Popular Mechanics featured another article on the benefits of hemp, this time focusing on the research of Henry Ford and the Ford Motor Company. Today, it is little-known history that the Ford Motor Company developed a plastic car with a frame produced from "a mixture of farm crops and synthetic chemicals," with the windshield and windows also made from plastic; the car's weight totaled 2,000 pounds (compared to 3,000 pounds for a steel car of the same size).
Henry Ford spent 12 years researching this plastic car, and in 1941 finally unveiled the plastic car with its outer panels coming from a "recipe that calls for 70 percent of cellulose fibers from wheat straw, hemp and sisal plus 30 percent resin binder." "Manufactures are already talking of a low-priced plastic car to test the public's taste by 1943," the article states. Henry Ford is quoted saying that he one day hopes to "grow automobiles from the soil."
Hemp, in addition to containing very low amounts of THC, contains the chemical cannabidol (CBD) which blocks the high from marijuana. Dr. David West says hemp could be called the "anti-marijuana." Moreover, the THC level in marijuana is lowered when hemp and marijuana plants naturally cross-pollinate. However, in 2001, the DEA issued a report stating that "existence of THC in hemp is significant because THC, like marijuana, is a schedule I controlled substance." Under federal law, possession and consumption of any schedule I substance is strictly prohibited, limiting hemp products that can be legally sold in the U.S. to those that present no possibility of someone ingesting THC. Of course, if you are unsure whether a hemp product you just bought has THC, the DEA says "if you wish to err on the side of caution, you may freely dispose of the product."
The potency of marijuana THC more than doubled to 9.6% between 1983 and 2007. Rarely, if ever, is it mentioned that this may be due to the fact that hemp and marijuana are restricted from cross-pollinating with one another, which would effectively limit the THC potency in marijuana. Hemp acts as a natural buffer to marijuana's THC potency, and government laws preventing the production and natural growth of hemp may very well be one of the reasons why marijuana gives a much stronger psychoactive effect today than it did thirty years ago.
Certainly one of the primary factors for the increase in THC potency is because, over time, growers will select and breed marijuana plants that yield higher THC levels (just as farmers will breed tomato plants that yield the juiciest tomatoes or favor chickens that lay the biggest eggs). However, this does not change the fact that the cross-pollination of hemp and marijuana would naturally limit the ability of marijuana growers to increase the THC levels in their plants. This cross-pollination process, as well as the many other benefits of hemp, is good cause to support the decriminalization of cannabis.
The economic possibilities of hemp production alone provide solid ground for adjusting federal policy to remove all restrictions on the production of industrial hemp, as Congressmen Ron Paul (R-Texas) and Barney Frank (D-Massachusetts) proposed in 2009 with H.R. 1866, "The Industrial Hemp Farming Act of 2009."
Society as a whole will benefit tremendously from the reintroduction of hemp. During the 1800s, the Commonwealth of Kentucky grew more than one-half of all the commercial hemp produced in the United States. Hemp was a key crop in Kentucky and the Appalachian region up until the time the crop was outlawed by the federal government in 1937. Decriminalizing cannabis would provide thousands of new jobs in hemp cultivation overnight, giving farmers and agricultural entrepreneurs the opportunity to utilize the known (and yet undiscovered) benefits of hemp.
One can only estimate the future economic impact of hemp that would come with decriminalization, but it is not a decision that requires extensive pondering. There is no possibility of getting high from hemp, hemp lowers the THC levels in marijuana, and the plant has thousands of uses that would benefit society in numerous ways. The criminalization of cannabis has brought society many negative unintended consequences, but those consequences could easily be reversed with the timely and swift repeal of all governmental laws restricting cannabis production, transportation, and distribution.
Excerpted from The Clear Benefits of Decriminalizing Marijuana. 
8 Responses to "The Tragic History of Hemp, and Why It Must Be Decriminalized"