DEA: Alcohol Prohibition Worked
[youtube]http://youtu.be/-9UPHdsYTYE[/youtube]
From the International Association of Chiefs of Police and DEA's 2010 report: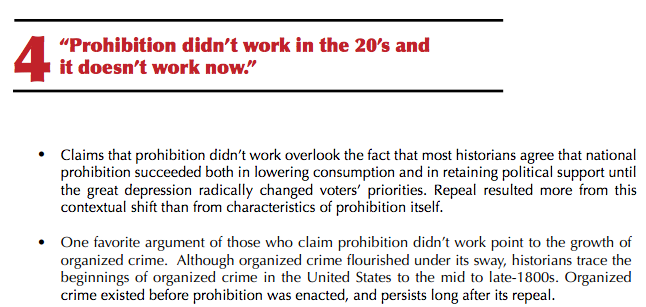 And from the 2011 paper I wrote on prohibition:
As we have explored, marijuana is proven to be a less dangerous substance than tobacco and alcohol. Not only is it less dangerous in terms of its addictive properties and physical harm to people, it has critical cannabinoid chemicals that may relieve pain and aid the recovery of certain illnesses. Given these scientific findings, it is clear that public policy is not weighing the individual and societal costs and benefits of marijuana, alcohol, and tobacco. Alcohol and tobacco have a host of health dangers that are generally well accounted for in today's society, but marijuana is stilled shunned by the government and many in society despite scientific evidence proving contrary to the conventional opinions held of marijuana.

Of course, prohibition of alcohol was official constitutional policy, as demanded by the Eighteenth Amendment, in the United States between 1919 and 1933. The Eighteenth Amendment to the Constitution declared it illegal to produce, transport, or distribute any intoxicating liquors in the United States. The Amendment was the result of many years of pushing from the nation-wide temperance movement for alcohol prohibition, not entirely unlike the anti-marijuana campaign that would seriously gain traction with Anslinger's work in the early 1930s. However, the passage of national prohibition did not necessarily go as planned or hoped by those in the temperance movement. Yes, liquor prices shot up (the price of beer increased approximately 700% during the Prohibition era), but high prices due to Prohibition gave rise to stronger alcohol products offered to the public through the unregulated black market. The black market cartels (which came about exclusively because of the criminalization of alcohol) produced less diluted and more intoxicating liquor products, simply because it was more efficient for them to concentrate alcohol into stronger products (Thorton).

Per-capita consumption of alcohol had already been declining in the U.S. since 1910. After alcohol consumption in the U.S. hit an all-time low during the depression of 1921, it actually began to increase starting in 1922. This is curious, considering that after the Prohibition policy was enacted alcohol consumption reversed its downward slope and began to increase.  Especially alarming is economist Mark Thorton's research finding that the "homicide rate increased from 6 per 100,000 population in the pre-Prohibition period to nearly 10 per 100,000 in 1933" (Thorton). Once Prohibition was repealed in 1933 with the Twenty-first Amendment, "the rate continued to decline throughout the 1930s and early 1940s" (Thorton). Homicides spiked in 1920 after Prohibition became official national policy, and homicide rates continued to increase until Prohibition was repealed in 1933.
First story from Say Anything Blog.
3 Responses to "DEA: Alcohol Prohibition Worked"