A Brief Timeline of Blowback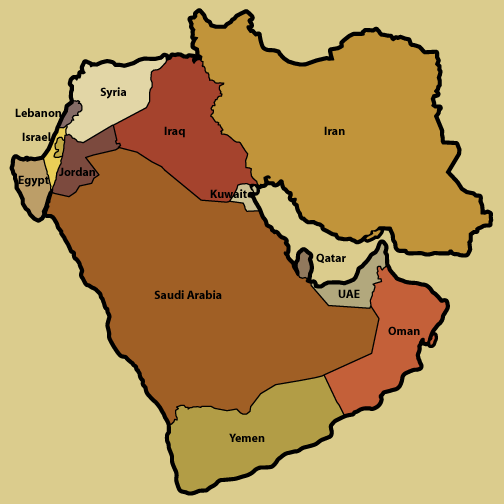 I recently gave a short presentation on blowback in a "Civilizations in Conflict" class I am taking at Berea College this semester. Below is a basic outline of the presentation I gave; I think it serves as a good introduction to the unintended consequences caused by an interventionist foreign policy. Please share your thoughts, criticisms, or questions!
Blowback – CIA term to explain unintended, harmful consequences of military action (particularly aggressive action).
Iran
1951- Mohammad Mossadeq is legitimately elected prime minister of Iran. Goal was to nationalize oil industry to keep out of the hands of the British (West), who controlled the majority of Iran's oil fields.
1953 – First covert CIA operation to overthrow Mossadeq. CIA pays protesters and bribes police. The Shah Mohammed Pahlavi is installed.
SAVAK established under the Shah with the help of the CIA – SAVAK was known for censorship, torture, and execution of those who dissented against the Shah; essentially it was a brutal police state supported by the CIA.
U.S. companies take over approximately half of Iran's oil production.
U.S. weapons merchants move into Iran with nearly $18 billion in sales over the next twenty years.
1979 – Taking of the American hostages at the U.S. embassy in Tehran, chants of "Death to the American Satan," Shah overthrown. This is described as the "Iranian Revolution."
Soviet Union
September 1980 – Iraq, taking advantage of Iran's political instability, invades Iran. (Washington D.C. quietly supports Iraq because the Soviet Union won't sell weapons to Iraq so long as they fight with Iran.)

1982 – Iran presses back into Iraq. For the next six years Iran is on the offensive. Due to Iraq's now defensive position in the war, the U.S. government begins both covert and public operations to support Iraq – weapons sales and economic aid. U.S. provides technology, plans, and equipment for chemical weapons Hussein ends up using against Iranians and his own people (the Kurds). U.S. encourages and succeeds in getting other governments and corporations to supply Iraq.
Afghanistan – U.S. provides billions of dollars in arms and training to the mujaheddin ("freedom fighters") to help weaken the Soviet Union. Included in this group was Osama bin Laden, an important player in the rebellion.
1990's – U.S. militarily and economically supports Saddam Hussein throughout the '80's, until Iraq invades Kuwait in 1990. Suddenly Saddam Hussein is compared to Hitler by the U.S.
U.S. provides harsh sanctions on Iraq following the Kuwait war in an effort to take Hussein out of power. Hundreds of thousands of Iraqis die due to scarcity of basic life essentials caused by the sanctions.
- Following 9/11, U.S. invades Iraq to find supposed chemical weapons despite no connection to the terrorist attacks.
- U.S. occupation on Muslim holy land is the chief reason for terrorist aggression toward the U.S.

1993 – Bombing at World Trade Center. Terrorists send letter to New York Times:
"We declare our responsibility for the explosion on the mentioned building. This action was done in response for the American political, economical, and military support to Israel the state of terrorism and to the rest of the dictator countries in the region."
Osama bin Laden spoke similar words after the events of 9/11:
"We swore that America wouldn't live in security until we live it truly in Palestine. This showed the reality of America, which puts Israel's interest above its own people's interest. America won't get out of this crisis until it gets out of the Arabian Peninsula, and until it stops its support of Israel." -Osama bin Laden, October 2001
Nearly 7000 U.S. soldiers have been killed in the Iraq and Afghanistan wars since 2001. Civilian deaths and casualties have been estimated to be above 1 million.
While some troops have been pulled out of Iraq, 50,000 will remain in the region indefinitely as well as approximately 95,000 contractors hired by the U.S. military. In Afghanistan there are more than 112,000 contractors on top of the number of troops. In short, these wars are not over and there is no end in sight for either the Iraq or Afghanistan occupation. General David Petraeus has stated that the Afghanistan War will likely exceed the length of the Iraq War, which is a strong statement considering neither war is close to being over.
Blowback is a serious concept that the CIA itself understands but the U.S. government has largely ignored since taking an active role in policing the world. The U.S.'s foreign policy of intervention leads to economic turmoil, massive debt domestically, and those who are our friends one day turn out to be our enemies the next day.
A Brief Timeline of Blowback

,
16 Responses to "A Brief Timeline of Blowback"