Candidate Obama Is Not President Obama
While in the Senate and on the campaign trail during the 2008 presidential election, Barack Obama spoke eloquently about the need to restore due process and constitutional procedure for people targeted and captured by the U.S. government. He repeatedly called for the closure of Guantanamo Bay, and on his first day of office as President he signed and Executive Order vowing to shut down Gitmo within one year.
However, as President, Obama has merely expanded those policies which he strongly opposed during his time in the Senate and on the campaign trail. Indeed, Obama authorized the assassinations of Anwar Al-awlaki and Abdulrahman Al-awlaki, both U.S. citizens, without presenting any evidence before or after their lives were taken by U.S. drone strikes in 2011.
Obama's new precedent of assassinating U.S. citizens without trial, submission of evidence, or any court procedure whatsoever is a far cry from what Obama himself espoused in 2007:
"The detention of American citizens, without access to counsel, fair procedure, or pursuant to judicial authorization, as enemy combatants is unconstitutional." — Barack Obama; December 2007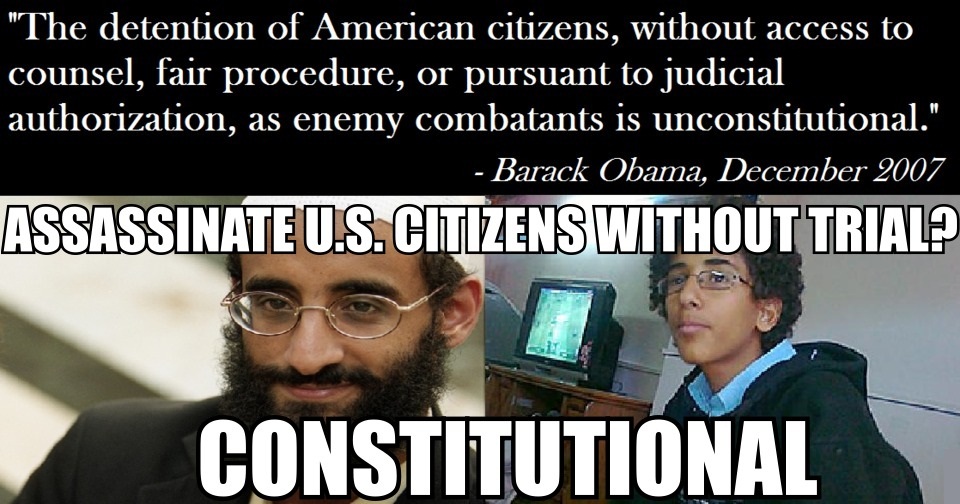 Learn more: The Hypocrisy of Barack Obama
2 Responses to "Candidate Obama Is Not President Obama"